We know that the content in our Social Media channels has been quite scarce the last year and I, André, as the SoMe responsible, want to tell you why. There's mainly three somewhat doubtful reasons;
Social Media isn't as fun as it used to be. You can't keep up with the platforms new fancy ideas and I never know if a post will reach 1 account or 1000+.
There's 4 of us working at the brewery – us 3 brothers and our brewer Henrik – and everyone is doing everything all the time, leaving small time slots to post fun and interesting stuff on SoMe.
Because all the tasks we do at the brewery every week is considered work and something we set ourselves up to do, I often fail to see the large potential for SoMe content in the everyday tasks. I do realize that a lot of the stuff is interesting for our followers.
With this in mind I came up with the idea of a weekly update from Brekeriet, called Brekeriet Weekly (!) published every Friday, as a complement to other more narrow posts.
Given that I hold this promise, I will tell you how our week has been and I hope this will give you a better view and understanding of what the heck we're doing at this place.
Since this idea came to me yesterday evening I don't have that much content from this week because the only time I use the camera is if I intend to post something, which I don't (see above reasons). With room for large improvements, here comes the first ever Brekeriet Weekly post.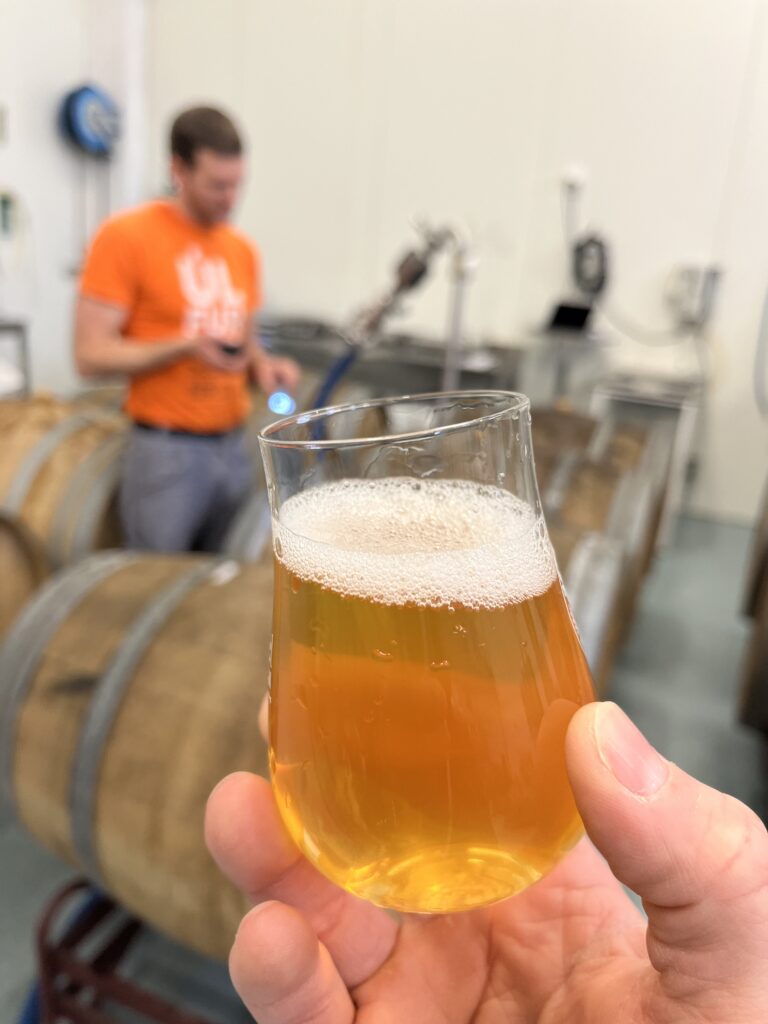 Brekeriet Weekly – CW10
To see the video on Instagram Reels, click here.
Monday – The grand release date of Alpha, Lichtenhainer and Bitter at Systembolaget. 3 beers for 3 separate occasions.
Not much going on at the brewery. Cleaning, dumping, transferring beer and so on.
Tuesday – Meeting with a new property owner for a potential move of the brewery, including a taproom. This is big and something me and oldest brother Fredrik spend quite some time with.
The brew crew (brother/head Brewer Christian, brewer Henrik, brewery intern Johan and LU student Stasini) tried our barrel aged spirits to decide what to bring to Malmö Beer & Whisky Festival next weekend.
Wednesday – Kegging and canning of two beers. Lucifer, our summer version of Lusse Lelle, is re-released at Systembolaget in April. Gone West is a thirst-quenching gose dry-hopped with American hops.

Thursday – We've made a collab with awesome Pomologik. It's a 50/50 blend between spontaneous fermented apple juice and 1, 2 and 3 year old barrel aged sour beer, blended into barrels for 3 months of secondary fermentation. Yesterday we transferred the beer to tank, for the upcoming packaging date.
Me and Fredrik met up with our friends at Kvarteret Erikstorp to discuss this years Brekeriet Bar, being held at their place the 1st of July. Save the date!
Friday – Brew day. Since we emptied barrels yesterday we want to fill them up with fresh wort as soon as possible. We brewed half a batch (1000L = 5 barrels) and kept 5 barrels empty. These 5 empty barrels will serve as bar tables in the future taproom.
I hope you enjoyed the reading. Have a great weekend! Cheers 🍻